Let your body breathe better at night with the enhanced airflow and silky softness of our DreamChill™ Mattress Protector. Our natural cooling minerals are blended into the cover fibers for long lasting cooling comfort.
StaDry™ technology in the cover captures, moves and releases moisture for healthy sleep.
StaKool™ technology provides enhanced cooling by capturing and releasing excessive body heat.
StaKool™ mineral technology accelerates the absorption of additional body heat.
100% Waterproof barrier for a dry, comfortable and healthy sleeping environment.
Breathable for enhanced airflow and comfort.
Allergen resistant barrier for allergy sufferers.
Regular price
$159.97 USD
Regular price
Sale price
$159.97 USD
Unit price
per
Sale
Out Of Stock
Share
View full details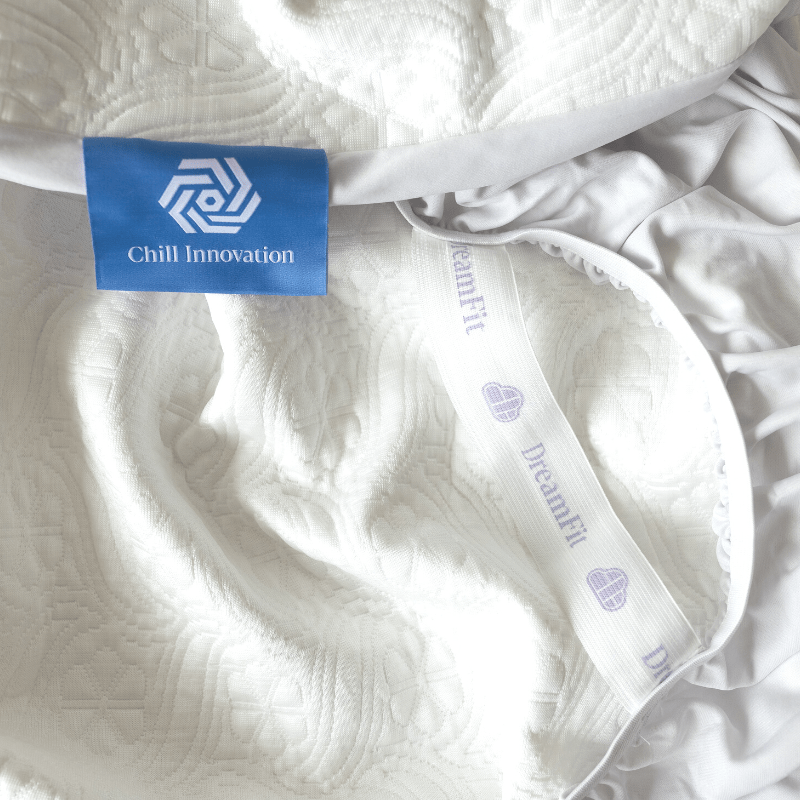 Why are DreamFit sheets the best sheets for the modern sleeper?
1️⃣ Our No-Slip Corner Bands, enhanced with silicone provide the most secure fit on your bed, allowing you to never have to worry about the corner coming off in the middle of the night.

2️⃣ Our FirstFit Corner bands are color coded bands that easily help you identify the head and the foot of the sheet, allowing you to never have to worry about putting your fitted sheet on sideways. (You're welcome.)

3️⃣ Our DreamFit 360 elastic around the bottom of the fitted sheet allows for a more tailored and secure fit. Our fitted sheet elastics are 20X plus stronger than the industry standard.

4️⃣ Our extra-long, extra wide luxury sizing enhances sleeping comfort allowing for a relaxed fit and plenty of length on your flat sheet to tuck in.
Perfect
Quality sheets,fits bed perfect,great service.
Hi Brenda,
Thank you so much for this amazing review! We appreciate you and your business!
Cool sleeping
Hey, problem with the memory foam type mattresses is if they get very hot, the dream fit prevents almost all of the discomfort
Hi Simon,
Thank you for the review. We're happy to hear that our Waterproof Mattress Protector has been helping the discomfort you've been experiencing. We appreciate you and your business!
Cool at last!
My husband has had night sweats for years. I finally decided to try some different sheets, hoping they would allow him (and me) to sleep better/cooler. After 3 nights, I am happy that we are both sleeping cool! As our bed is a California King size, the investment was pretty high. I was pleased that they fit well with plenty of "tuck in" fabric.
Hi Virginia,
We're thrilled our sheets are meeting your needs, a good night's sleep is so beneficial! Thank you for your kind words. We appreciate you!
Hi Clint,
That's wonderful to hear! Thank you for the review. Please let us know if we can be of service to you in the future. We appreciate you and your business!
Definitely a quality purchase
I just put it on my bed a week ago. Excellent quality compared to the one that I had prior. So far so good. Like I said a definite purchase it is well worth it.