Drape your mattress with our luxuriously soft and silky DreamComfort™ Mattress Protector, fitted with DreamFit's patented color-coded corner bands that quickly identify the head and foot of the mattress protector.
Our 100% fine brushed microfiber surface fabric is ultra-soft and quiet. Additionally, our StaDry™ moisture-wicking technology in the cover captures, moves, and releases moisture for healthy sleep.
StaDry™ resists pooling by moving liquids away from the body further and faster.

100% waterproof barrier for a dry, comfortable, and healthy sleeping environment.

Breathable for enhanced airflow and comfort.

Allergen resistant barrier for allergy sufferers.
Regular price
Sale price
$79.97 USD
Unit price
per
Sale
Out Of Stock
Share
View full details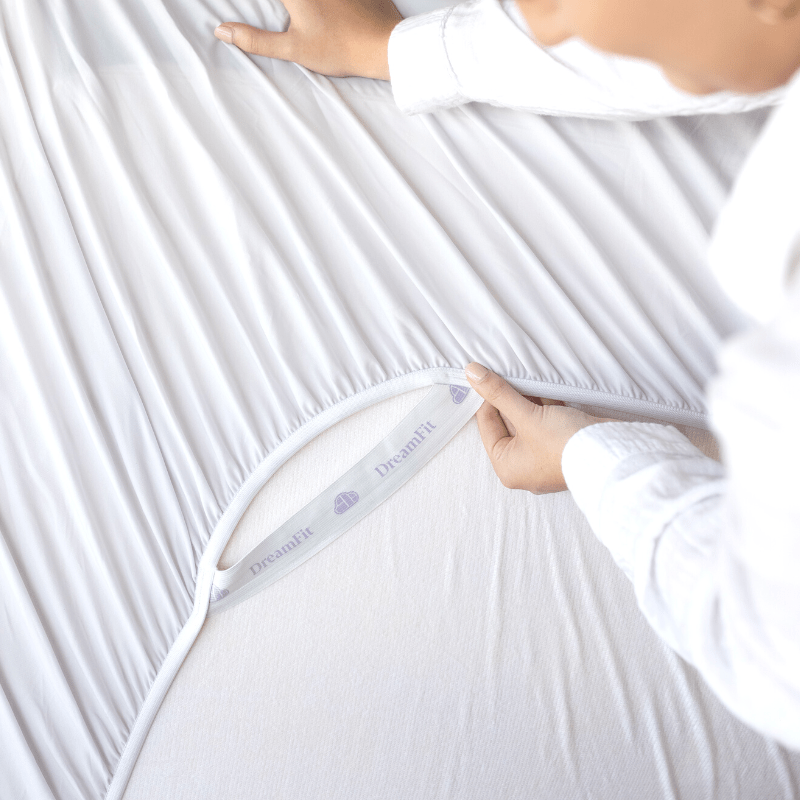 Why are DreamFit sheets the best sheets for the modern sleeper?
1️⃣ Our No-Slip Corner Bands, enhanced with silicone provide the most secure fit on your bed, allowing you to never have to worry about the corner coming off in the middle of the night.

2️⃣ Our FirstFit Corner bands are color coded bands that easily help you identify the head and the foot of the sheet, allowing you to never have to worry about putting your fitted sheet on sideways. (You're welcome.)

3️⃣ Our DreamFit 360 elastic around the bottom of the fitted sheet allows for a more tailored and secure fit. Our fitted sheet elastics are 20X plus stronger than the industry standard.

4️⃣ Our extra-long, extra wide luxury sizing enhances sleeping comfort allowing for a relaxed fit and plenty of length on your flat sheet to tuck in.
perfect fit
received product and it fit perfectly.
Hi Richard,
We're glad to hear they fit perfectly! Thank you for the review, we appreciate you and your business!
Stays on regardless of the bed's position
This is the second one we've purchased. It's quick and convenient because it functions so well.
Hi Karen,
Thank you for shining a spotlight on our exceptional products! We appreciate you and your business!
Very Nice Mattress Protector
We needed a mattress protector for our full-sized guest bedroom. The mattress was lofty and were so pleased the protector fit so nicely. The elastic at the corners slipped on easily. We were thrilled it was handcrafted in the US. We'll certainly be buying again from DreamFit!!!
Hi Bob,
We're thrilled to hear that you are pleased with the mattress protector. We appreciate you and your business!
DreamComfort™ Mattress Protector
Hi Jeanne,
Thank you for the review. We appreciate you and your business!
Great
Great product. Love Dream Fit.
Hi Cindy,
Thank you for your kind words. We appreciate you and your business!